Why Dive With us?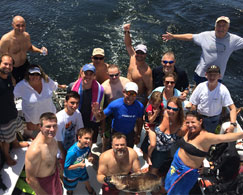 What a great question. With so many dive boats and shops in the area, what sets any one apart from the others? That decision is up to the individual diver and what they feel is important. We feel that we have a top notch operation, but there is one thing that drives the entire organization. A friendly positive attitude!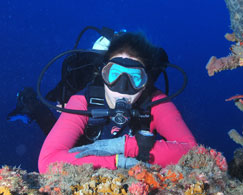 Everyone that works for Parrot Island Scuba Adventures loves what they do, and it shows. We are family owned and operated. We love meeting new friends and providing an experience that you will remember for years to come.
That attitude brings it all together into a total package. What do we have to offer? First is our location. Centrally located between Fort Lauderdale and Boca Raton at the Hillsboro Inlet. You won't find a closer boat to the dive sites in all of South Florida. We are seconds to the ocean and minutes from the dive sites. We have the best crew in the area. Our divemasters are knowledgeable and helpful. Our captains haven't missed a dive site yet. Our vessels are Coast Guard Certified and maintained, even the bathrooms work. We limit the numbers of divers on our boats. We won't cram you together with 40 of your closest friends. We want you to have a pleasurable experience. Mostly we are friendly, fun and able to handle any situation on the water. The crews are instructors, technical divers and sport divers themselves. We haven't forgotten how we like to dive and be treated when we're on vacation. Come give us a try and decide for yourself.